CATEGORY BENEFITS
At PSL Rheotek, we offer the full range of viscosity standards for ongoing verification and calibration
The PSL Calibration Laboratory is a UKAS Accredited Calibration Laboratory, accredited to ISO 17025, Lab No 0247. The PSL Calibration Laboratory maintains a master viscometer scale calibrated to ASTM D2162. Manufacturing and handling of reference materials is certified under ISO 17034, Lab No 5076. Calibrations performed include the measurement of Viscosity Reference Standards in the temperature range -40 to 135 deg. C.
PSL Viscosity Reference Standards are suitable for the verification and calibration of glass capillary viscometers, flow cups, rotational viscometers & Cone and Plate viscometers.
Certified values are provided for kinematic viscosity, dynamic viscosity and density, together with uncertainties of measurement. The following types of viscosity standards are available from PSL: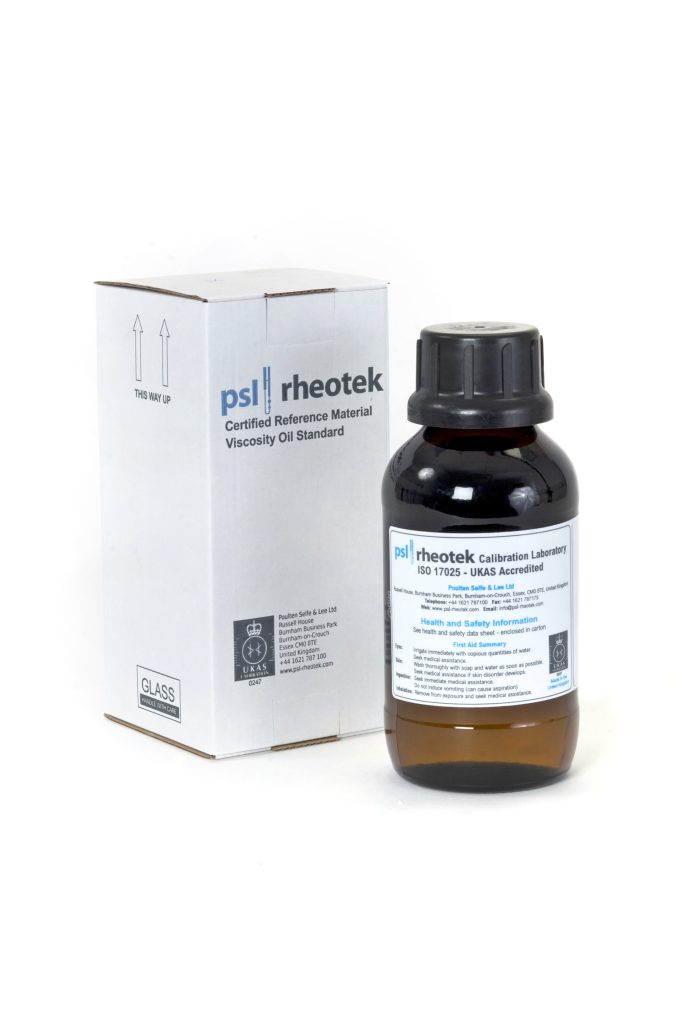 FAQ
You asked, we answered
What is the shelf life of a viscosity standard?
Two years from date of shipping.
How do I store my viscosity standards to make sure, they don't deteriorate over time?
We recommend storing the viscosity reference standards away from direct sunlight at a stable temperature.
Can I reuse the standard after verifying my viscosity measurement?
No, this is not possible. On completion of verification, the portion of the bottle used for work must be discarded.
How can I be sure, that the certificate supplied with the standard has the correct values?
Our laboratory is UKAS accredited and audited every year. Our work in viscosity calibration, production of reference materials and handling of reference materials is carried out under ISO 17025 and ISO 17034. Sample certificates of calibration available on request.
What is the primary reference in kinematic viscosity?
The primary reference in kinematic viscosity is triple distilled water at 20 degrees C.
CUSTOM SOLUTIONS
Do you need custom product for your custom requirements?
We listen to customer challenges. Each PSL Rheotek viscometer system is configured for the owner. A wide variety of international test method protocols are readily available in the software. Company specific method protocols also supported.