CATEGORY BENEFITS
Save time with semi-automation
Capillary viscosity determinations in full compliance with ASTM D445, ISO 3105, DIN 51562 with the benefit of automated flow time determination and calculation of results. The PSL Rheotek ISAAC module automates the operation of the capillary viscometer without compromising the procedure of the test method protocol. A genuine alternative manual measurement with a stopwatch, the ISAAC is a versatile and reliable workhorse for KV work.
Compatible with most constant temperature viscometer baths in the market, the ISAAC can be used in combination with existing equipment as a supplement to manual work. The following operations are automated:
Sample elevation
Sample release
Flow time determination in duplicate
Calculation and reporting of results in pdf format
Using the ISAAC Semi Automated Viscometer is a great way to conduct product certification KV test work with full confidence in the results. The PSL Rheotek ISAAC software is pre-loaded with ASTM D445 results acceptance criteria and will only report results, which pass the criteria.
All results are based on two consecutive flow times, which are within the tolerance band. With the ISAAC in the laboratory, method compliance and a heavy workload can walk hand in hand. The PSL Rheotek ISAAC semi-automated viscometer accommodates one or two ASTM Ubbelohde Viscometer tubes.
Contact us to set up an on-line meeting with one of our team members to find out if the ISAAC can work for you.
Semi-Automated Viscometers
VIEW IN ONLINE SHOP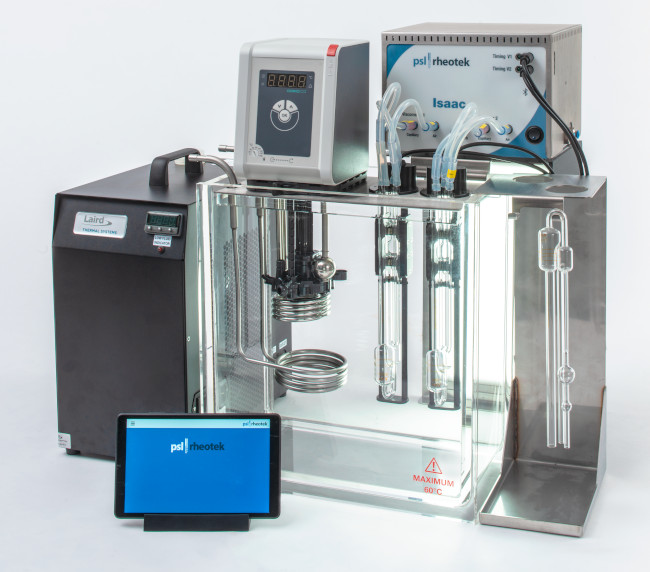 ISAAC with Chiller
VIEW IN ONLINE SHOP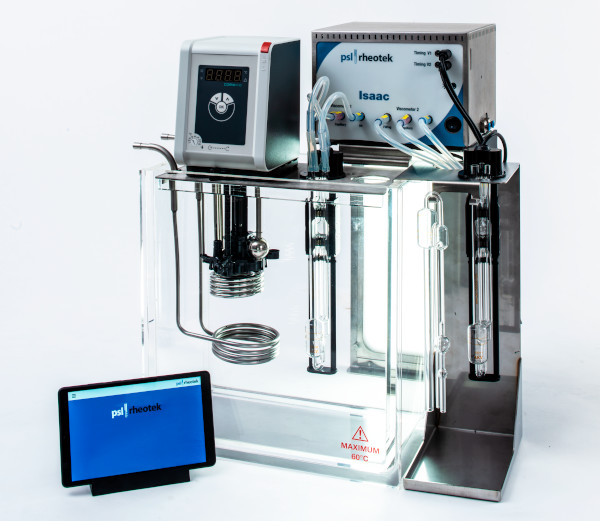 ISAAC and 2 position bath
FAQ
You asked, we answered
Will the results comply with D445, ISO 3104?
Certainly, 100%. All results are based on obtaining two consecutive flow times within the tolerance specified for the product. The ISAAC software is coded with all method parameters.
How do I get the result?
The result will be displayed on the tablet, which is supplied with the unit. It is available in pdf form for download. Sample result document available here
My samples are black, can the ISAAC measure them?
This depends on the level of opacity. Please contact us to arrange for an on-line consultation with one of our team members to discuss. We may ask you to send us some sample for pilot testing to ensure, that it will work.
Will it be quicker than doing it by hand?
Yes, you will be able to run flow times of less than 200 seconds without compromising method compliance. The ISAAC software with automatically apply the correct kinetic energy correction to facilitate this.
CUSTOM SOLUTIONS
Searching for custom instrumentation for your unique requirements?
Each PSL Rheotek viscometer system is configured for the owner! A wide variety of international test method protocols are readily available in the software and company specific method protocols are also supported.